Bling CARDS Challenge Gallery and a New Challenge!
What gal doesn't love a little bling from time to time? Well today you're going to get a whole lot of it because the challenge this week was to use bling! Here are 18 blinged-out cards made by you talented divas:
Lucky Duck by Rachel Theall
Sending You Sunshine by Paulina Nakamura
Faith Hope Love by Christine Meyer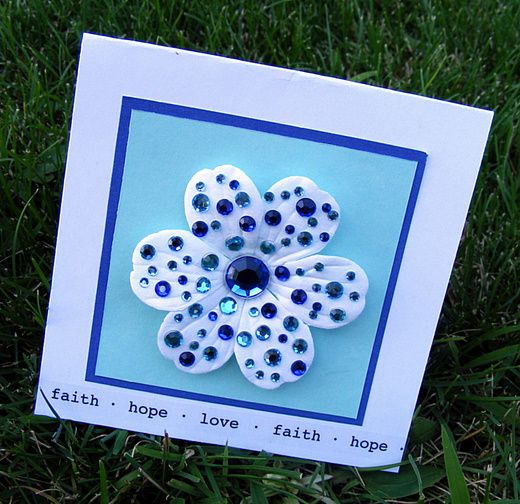 You're Special by Virginia Lu
You Make Me Smile by Karolyn Loncon
Us by Christine Meyer
Sorry for Your Loss by Lisa Arana
Sent With Love by Debbie Marcinkiewicz
I Will Miss Hanging Out with You by Jo Westfoot
Hi! by Stephanie George
Happy Birthday by Patti West
Happy Birthday by Angela Bowlus
Fun in the Sun by Emily Niehaus
Dude by Beverly Sizemore
Congrats on Your Bun in the Oven by Ivy Wong
Birthday Wishes by Karin Akesdotter
Adore by Irit Shalom
Birthday Wishes by Alexis Easton

What a great bunch of cards, as always! Keep 'em coming!
The challenge for this week: cards with ACCORDION PAPER FLOWERS – here is a picture of what I'm talking about:

You can make them yourself or many companies are making them pre-made so you just peel and stick! Either way, handmade or pre-made, email me a picture of your cards with accordion paper flowers to paiget@northridgepublishing.com by next Thursday, July 7th 2011, and a new post will be up then! Have a great weekend!