Chevron CARDS Challenge Gallery and New Challenge!
The challenge this week was to incorporate that trendy stripe known as chevron! I'm feeling exceptionally inspired after seeing all 22 of your lovely cards.

Friend by

Paige Evans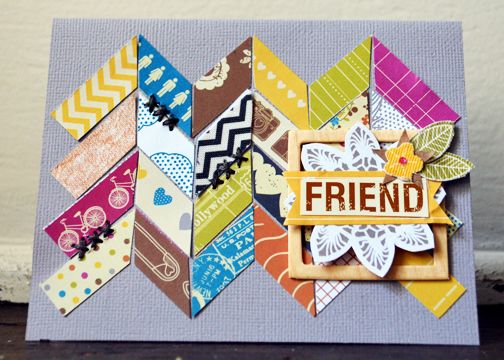 Miss You by

Debbie Marcinkiewicz

Thanks So Much by Virginia Lu

You Make Me Smile by Michelle Mathey


What's Up? by Jamie Long


Xoxoxo by Ivy Wong


Together Always by Cathy Harper


The Sky is the Limit by Stephanie Muzzulin


Thanks by Wendi Robinson


Thank You by Stephanie Johnson


Thank You by Gabrielle Lowe


Note of Appreciation by Jennifer Rzasa


Make a Wish! by Megan Aaron


Luv U by Tina Su


Let Your Heart Be Your Guide by Brenda Weaver


Just a Note by Amy Tsuruta


Happy Halloween by Smitha Katti


Happy Birthday! and A Friend Is by Lisa Arana


Happy Birthday by Rochelle Washington


From Paris with Love by Melissa Bove


Celebrate by Glenda Wyatt


A Day to Celebrate by Andrea Budjack


Such a lovely bunch of cards featuring chevron! This is definitely one of my top favorite challenge galleries.
Here's your challenge for this upcoming week: Fall cards. Please email me a picture of your fall-themed card with a link to your blog to paiget@northridgepublishing.com by next Thursday October 27th 2011 and I'll be back then with another gallery and challenge! Take care!